Ah, my favourite time of the year: Spotify Wrapped. A time when we gather around the fireplace our phones and unwrap our horrible tastes in music. Last year, I learned a few things from the insights surfaced in the data aggregation.
This year, I learned a few new things.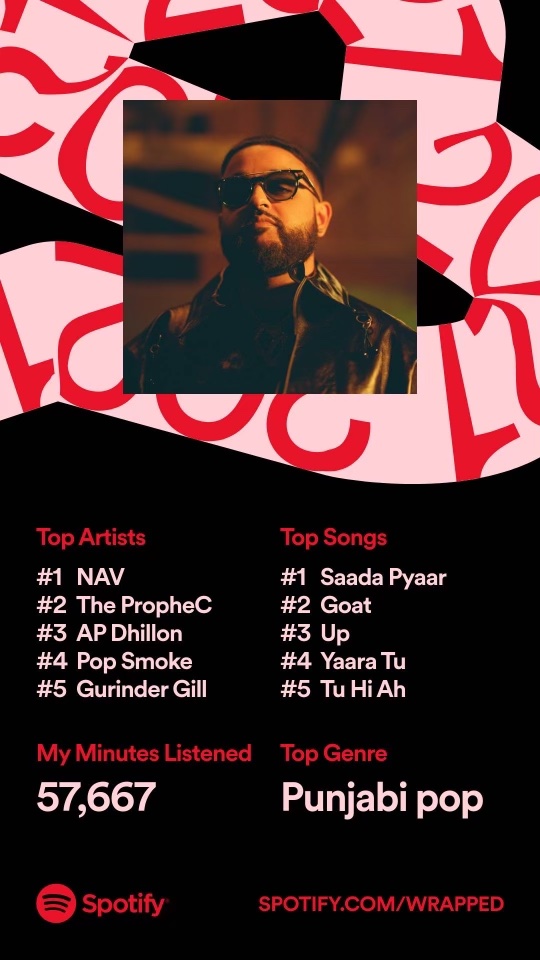 2021 presented two distinct listeners: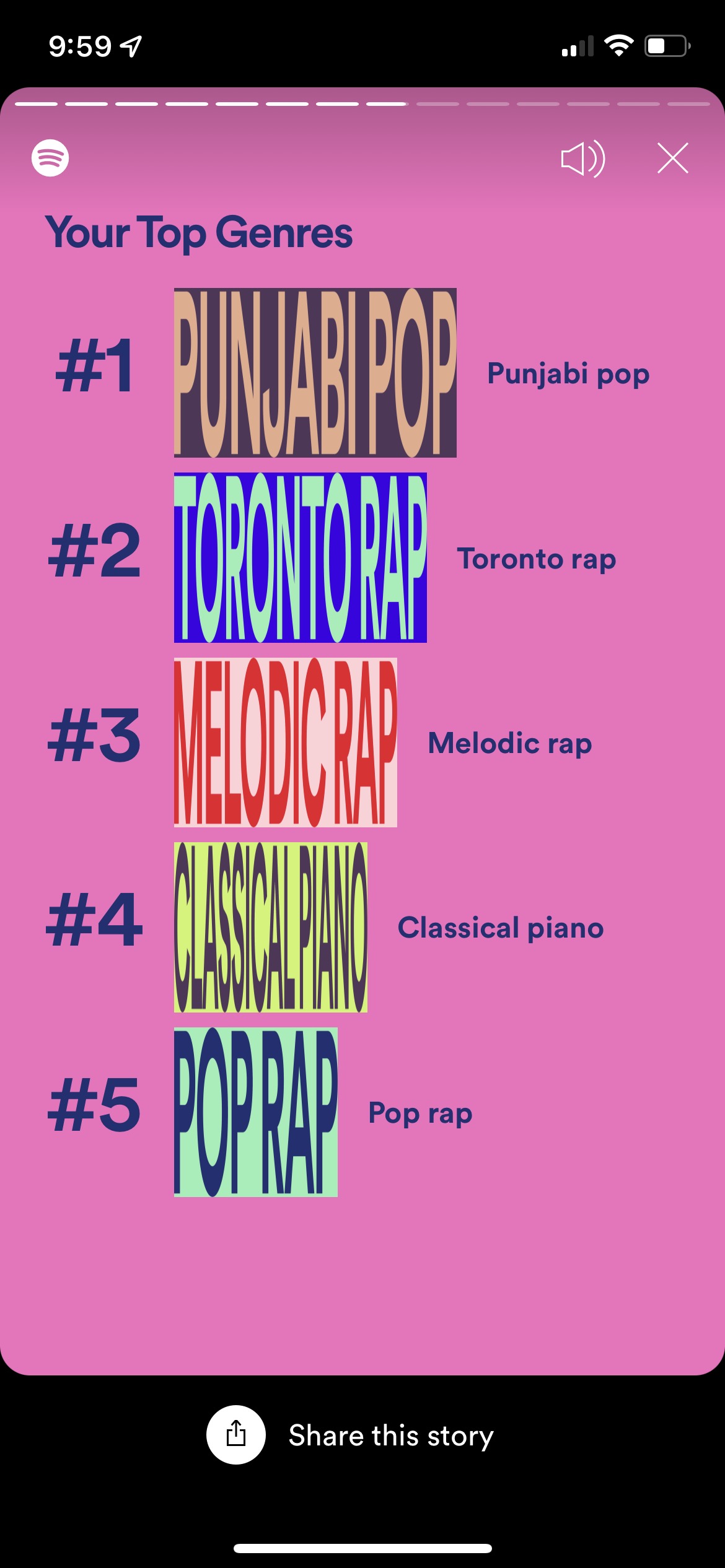 1. The Surface Listener (Rap)
I've always enjoyed listening to Rap and Hip Hop. I think the Paarth who fancies this genre is the person I've externalized. The one I moulded into as a kid listening to the genre for the traditional machismo appeal. My attraction to the genre might have been disingenuous, but I've grown to appreciate the music production and lyrical flow involved. I use this genre as a vehicle for escapism, mainly. I find it pumps me up, distracts me, and removes me from environment. I suppose these incentives are positive or negative depending on what I choose to escape from.
I tend to listen to this music at the gym, in the car, or when playing basketball. I also turn the rap up when I'm avoiding an internal conflict.
If you know me well, then you know I have particular affinity towards NAV. It may surprise you to know that the volume of my NAV consumption has decreased—significantly! I think this was mainly a byproduct of the other listener taking birth.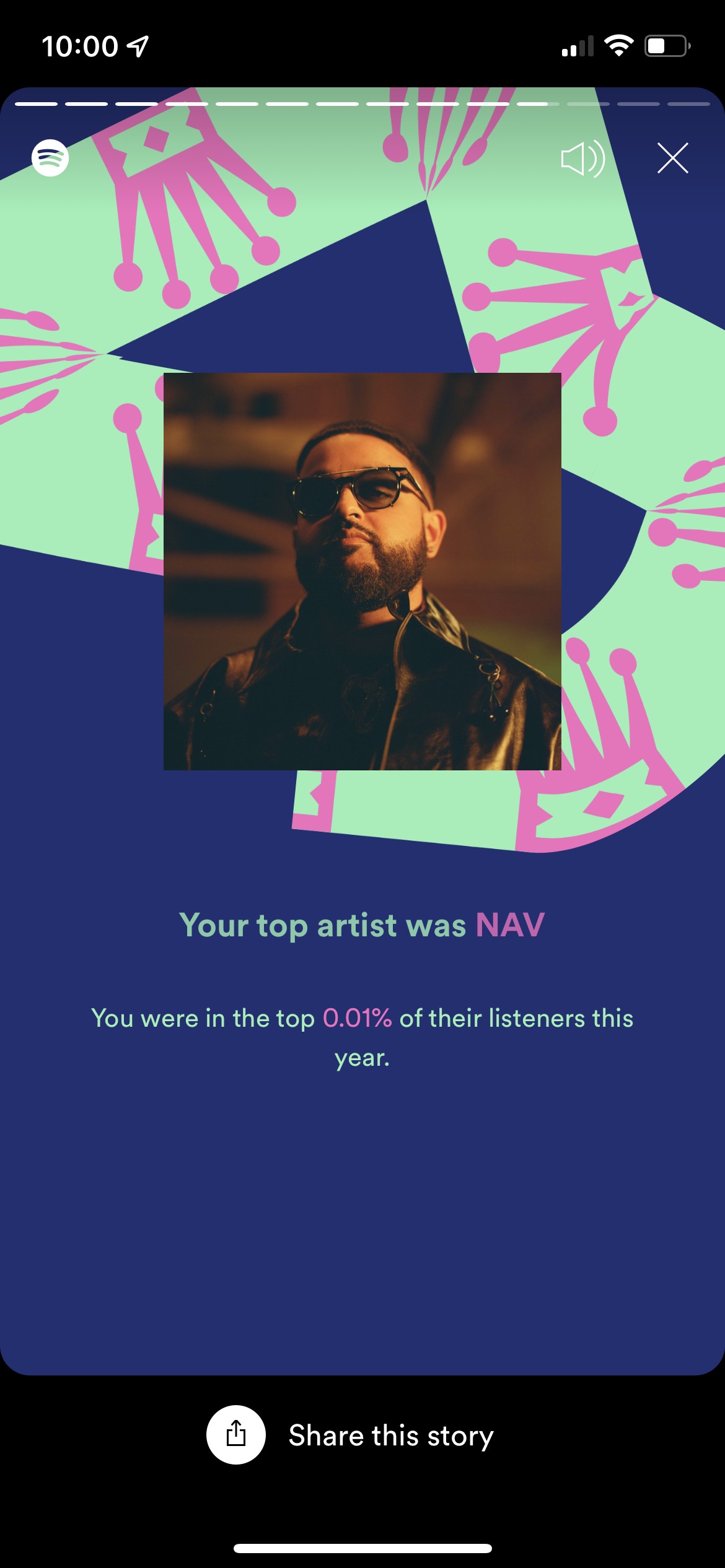 2. The Internal Listener (Punjabi)
I started listening to Punjabi music more seriously at the end of last year.
My Spotify Wrapped suggests I use this music to get in tune with my emotions; to explore feelings that I'd normally conceal or run away from. Most of the Punjabi music I listen to is culturally referred to as senti. I suppose it can be characterized as sad or emotional music, though the cultural differences are hard to describe.
I'm ridden with the same issue many of my male peers face: I don't enjoy exploring trauma or externalizing my emotions. I've found it helpful, beyond measure, to listen to music that resonates in these ways. The song speaks about things that I don't have the courage to, I suppose.
I began to wonder why I hide behind the barrier of my language to explore these feelings. Why is it that the internalized listener listens to music of a different language? It has to do with my acceptance of being emotional.
I don't believe it's something I've fully appreciated, understood, or developed opinions on. I still hide behind the barrier that is my language, because I'm not sure it's OK by my own standards.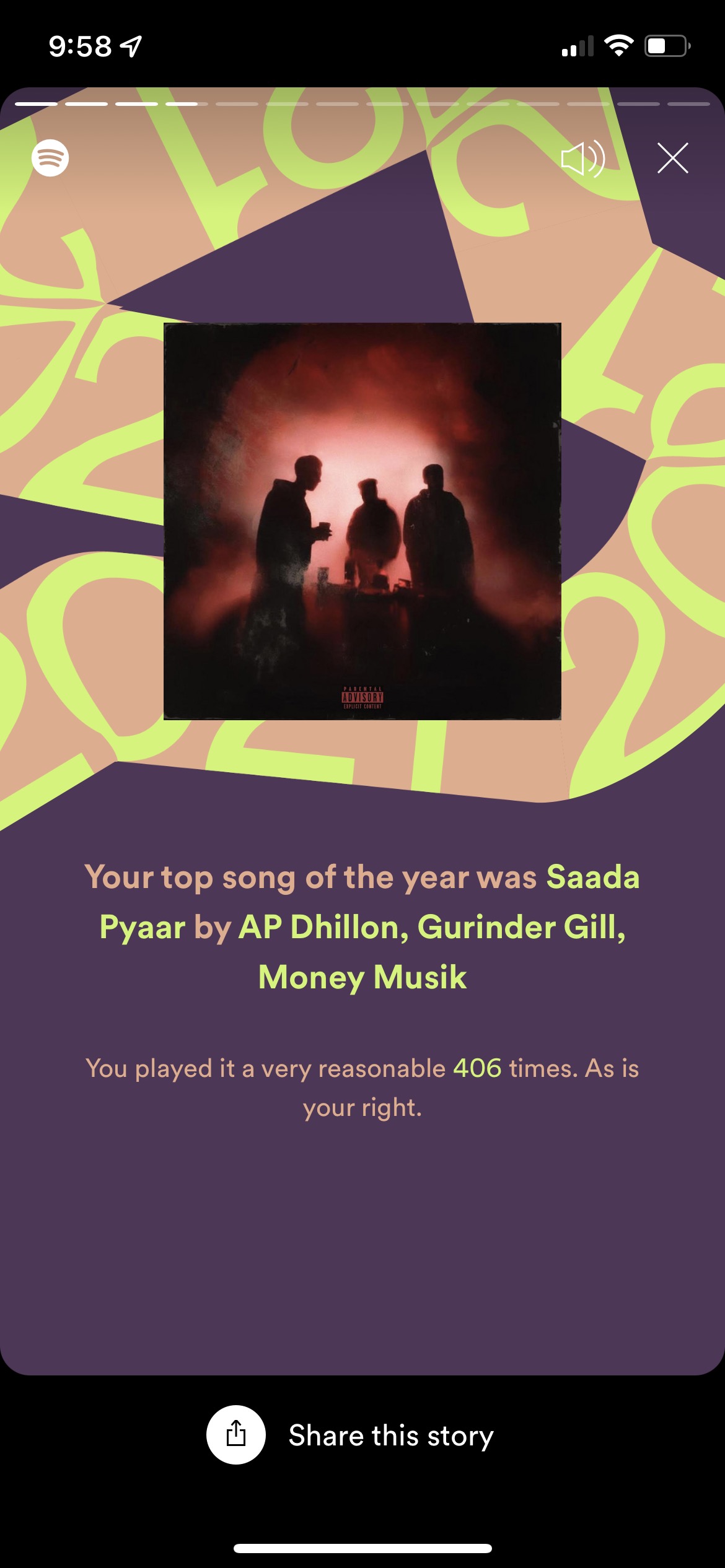 Duality
The most interesting insight I derived from my data was the duality that exists between these hard, reckless English songs and their polar opposite: deeply emotional Punjabi songs. It's uncanny how frequently this duality exists in my Top 100, pairs of songs side-by-side.
Just a few instances below: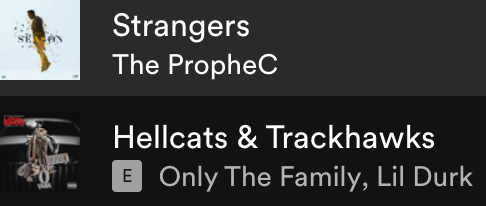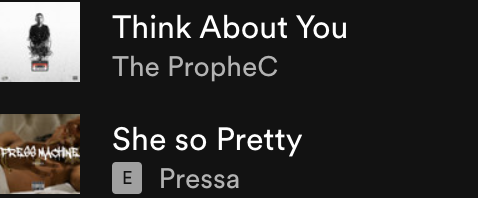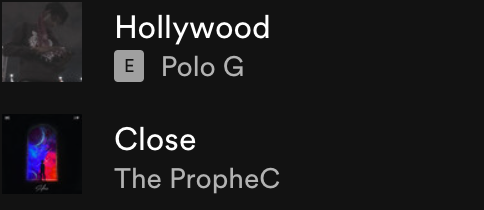 It's fascinating that the parity exists so consistently throughout the Top 100. I believe it accentuates that there are two very distinct listeners who interact with my Spotify account.
Other Insights
I spent, on average, close to 4 hours a day listening to music. Considering I'm up for 16 hours a day, this is a really significant portion of my waking hours: a whopping 25%. It's clear that I still have a music addiction. I think I'll try to halve this for next year.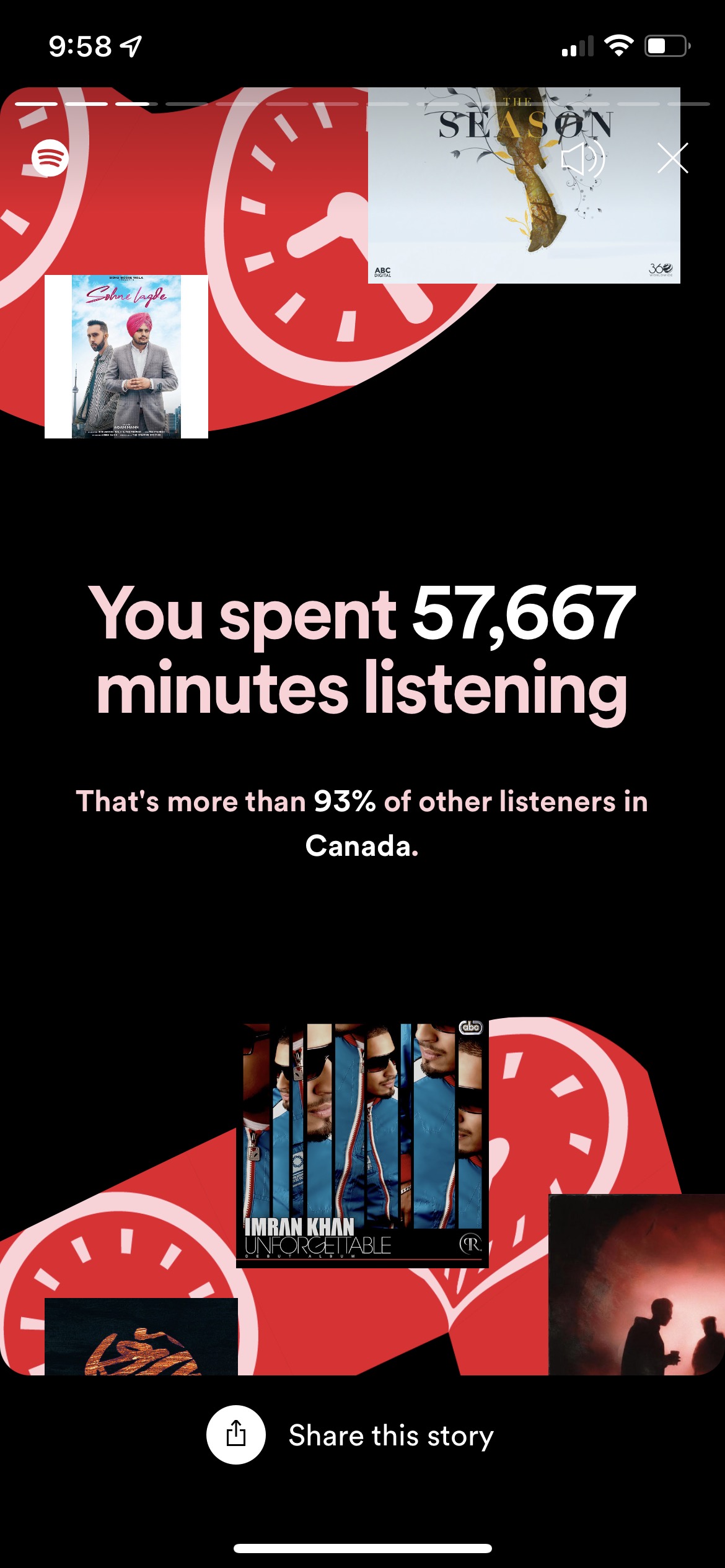 Contrary to what Spotify tells me, my favourite song is Strangers by PropheC. It ranked at #6.
I listened to many genres.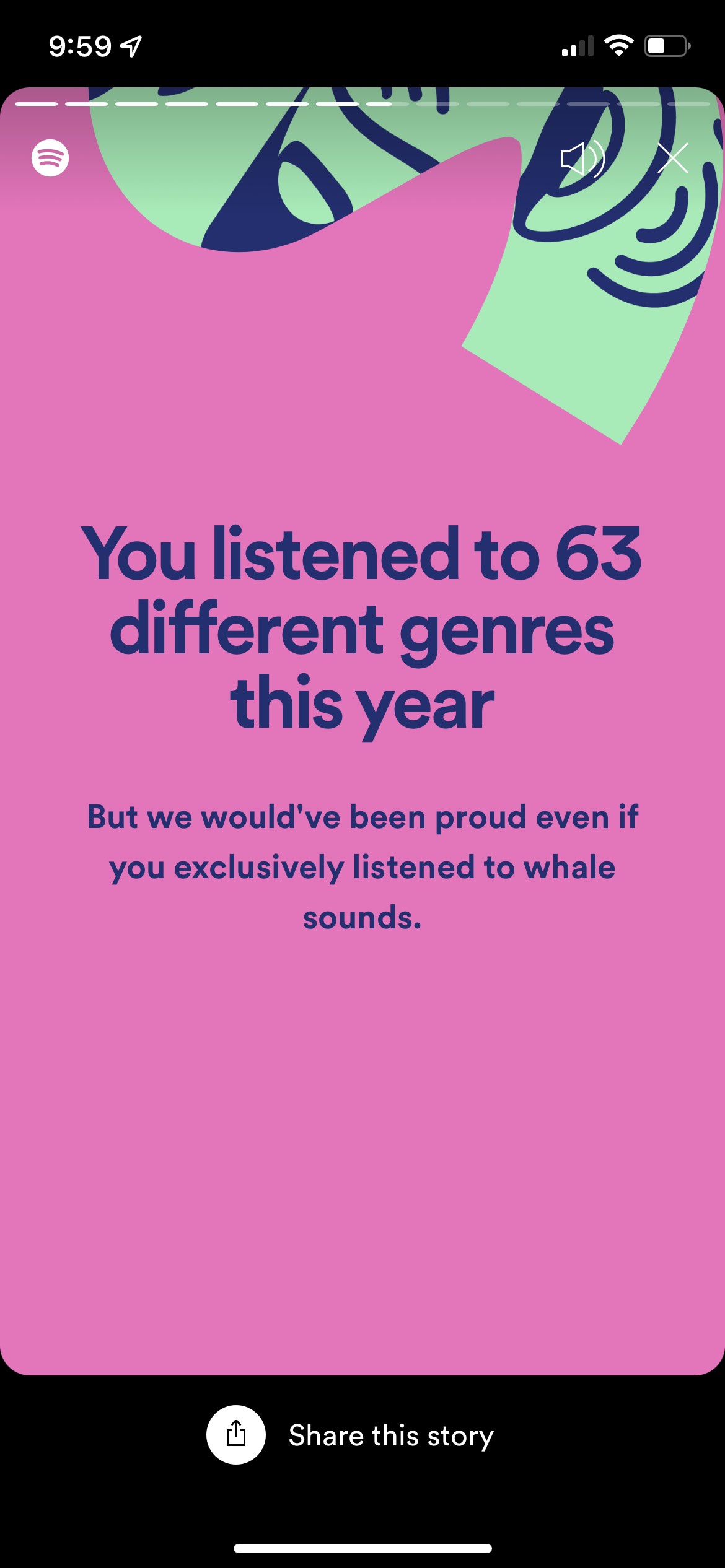 Judging My Music
I judge my music all the time, feel free to judge it too! This year, I'm going to drop some of my favourites.
One day I'll show this to my kids, they'll laugh, I'll feel old, and they'll go back to listening to music that I don't understand (hey kiddos, if that's you!).
Here are some of my other favourites, in no particular order:
Hip Hop
Drill, Trap & Rap
Play For Keeps (L'A Capone)
Hunnid On The Drop (21 Savage)
Back In Blood (Durkio)
Jesse Owens (NAV, Rowdy Rebel)
Dead Body (Pressa, Rowdy Rebel)
Can Go On Forever (Casper)
Can I (Kodak Black)
Thankful (Kodak Black)
Music I Play Every Gym Session
Rambo (Jazzy B)
Gym De Shokeen (Sultaan)
Armed and Dangerous (Pop Smoke)
Better Have Your Gun (Pop Smoke)
Up (NAV)
Hukam (Karan Aujla)
Hit Em' Up (2Pac)
(I find this list changes very frequently, so this is reflective of what I'm listening to as I write this)
Sad Vibes
Held Me Down (NAV)
Hollywood (Polo G)
Re Up (NAV)
When We Were Young (Adele)
Easy On Me (Adele)
Close Friends (Lil Baby, Gunna)
All Girls Are The Same (Juice WRLD)
Requiem (NAV)
And, now in Punjabi (and Hindi):
Senti Music
Strangers (Prophec)
Maula (Sardool Sikander)
Dukh (Prophec)
Saada Pyaar (AP Dhillon)
Tum Hi Ho (Arijit Singh)—a classic
Tu Jaane Na (Atif Aslam)
Feels (AP Dhillon)
Close (PropheC)
Peer Tere Jaan Di (Gurdas Maan)
Think About You (PropheC)
Questions (Prophec)
This list can get quite big, so compilation is tricky.
Need a list dedicated for:
NAV
On My Own
Over
Mission
Take Me Simple
Nothing on You
Nothing on Me
Mission
Brown Boy
Diamonds
…
basically anything < 2017
Fun Songs
Peaches (Justin Bieber)
Down (Jay Sean)
Chitta Kurta (Karan Aujla)
Mexico (Karan Aujla)
Bodak Yellow (Cardi B)
Patty Cake (Kodak Black)
Sohne Lagde (Sidhu Moosewala)
UK
Straight Rhymez (Aitch)
Take Me Back To London (Ed Sheeran, Stormzy, Aitch)
Latest Trends (A1 x J1)
Classical
Nocturne No. 20 in C# Minor, Op. Posth. (Chopin)
Ballade No. 1 in G Minor, Op. 23 (Chopin)
Sonata No. 14, Op. 27 (Beethoven)
I don't have really strong opinions here, I've yet to find a composition I particularly dislike—I normally just listen to a playlist.
As you can see, cohesion is non-existent. Yes, I listen to Chicago drill music, Punjabi breakup music and 19th century classical—sometimes one after the other. But, I wouldn't have it any other way. Humans are multidimensional; it would crude to assume our music taste could be anything but multidimensional.
I've probably missed whole sub-categories. For instance, I've neglected to share the music I listen to strictly for music production.
Well, that's it folks. Until next year!
To my kids:
Don't laugh too hard at my music taste, I can't even understand the music you kids listen to these days. It just ain't as fresh as the bops of '00.